"Hope is the thing with feathers. / It perches in the soul." – Emily Dickinson
I have been thinking and talking about hope a lot this year, and especially in the last few weeks. There have been many times that I have felt profoundly hopeless, but strangely, I find the little bird in my soul reawakening as we head into the final month of 2020 and the bleakest, shortest days of the month.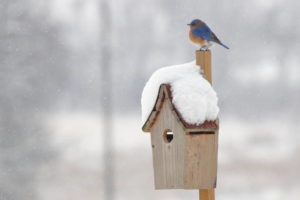 I read somewhere this summer that the key ingredient of hope is agency. That has become a motto of sorts for me during the pandemic. Introvert that I am, I still enjoy being out in the world, interacting with people and nature. Under normal circumstances, more free time would mean that I would ramp up activities like volunteering to tutor ESL and adult literacy for the local library district, which has been one of the most rewarding experiences of my life to date. Thanks to COVID-19, though, I was really struggling for a while to adjust and find safe ways to meaningfully and positively make an impact.
But also thanks to COVID-19, I began really engaging with nature like I hadn't in years. Not only that, but I was bonding with my friends and family in nature and about nature in ways that brought back the fondest of memories from my childhood and youth. I had my best vegetable gardening year yet in Colorado, buoyed by encouragement and interest from some of my newest local friends. I began to spend time outside every single day. I worked watering and weeding into my morning routine. A key moment for me was watching a bee gather pollen from a flower in one of my raised beds; feelings of gratitude and hope washed over me. As I got used to spending time outside again instead of glued to my computer, I went out of my way to start scheduling masked walks with my friends, and we agree that it is doing wonders for our mental and physical health. In addition, I have begun keenly observing the shifting seasons and the changes they bring in flora and fauna and color palette. I have been learning the names of birds and wildflowers, a set of knowledge of which I was able to make particularly joyful use while roleplaying Salvia, a sage character with a penchant for healing herbs, in a virtual game of Dialect.
All of this gathered and gathered over the months until the answer to the question of how I could give of my time and energy presented itself all at once – I could make my hope my lifestyle. I was trying to come up with a good birthday present for my mom, a woman who always knew the names of all the plants and trees we saw on our frequent walks at the Indian Creek Nature Center when I was little. I decided to get her some gifts that would help her cut back on paper and plastic waste, and while I was at it, I got some for myself as well. She reports that she uses them every day, as have I. Once I started that snowball rolling, I find it picking up speed. In that spirit, I would like to share with Superman and God readers 5 of the sustainable practices that I'm adopting or doubling down on this winter. I think of it like building a little birdhouse in my soul.
My goal with this post is not to be too Pinterest-y. There are plenty of blog posts and magazine articles with genuinely clever suggestions on this theme, but these are things I'm actually trying. They're all very doable and neither cost-prohibitive nor time-consuming. A few might even save you some green!