Today is a special day. Not only is it the first morning that we've ever woken up as a country to a female Vice President, but it is also the 21st day of the 21st year of the 21st century, completing a trifecta that only occurs around once every 100 years. (For example, this won't happen again until January 22nd, 2122: the 22nd day of the 22nd year of the 22nd century. In an ironic slap-in-the-face nod to the number 21, we wanted to celebrate yesterday's notable importance by continuing our list of mocktails and non-alcoholic drinks to enjoy during Dry January. However, as we've been having a particularly busy week, Rachel gave Jon the all-clear to very quickly write something up for this evening, with the understanding that we would revisit our writing effort this weekend instead. Therefore, instead of introducing a complicated feature mocktail, I'll be suggesting a non-alcoholic "Near Beer" that I've recently discovered at my favorite local grocery: Weaver Street Market in Carrboro, North Carolina.
What We're Drinking: Upside Dawn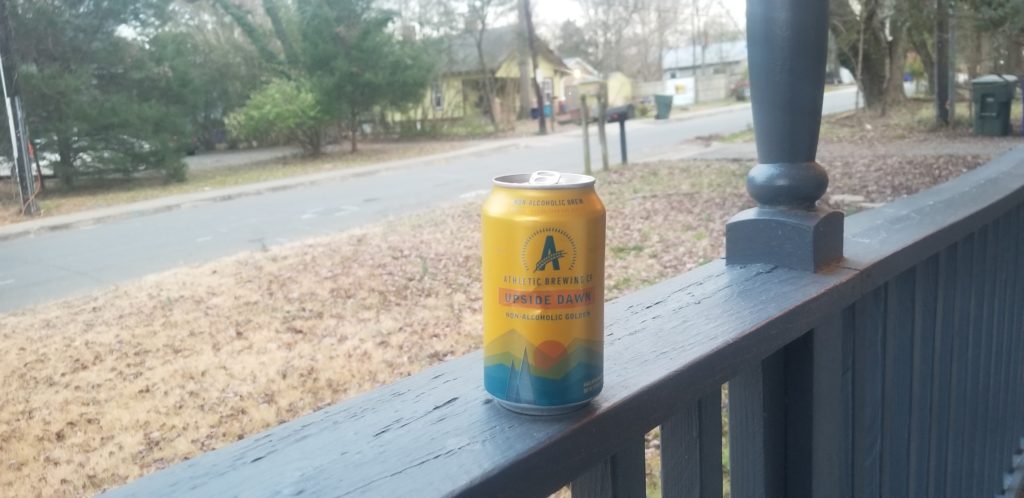 "Upside Dawn" is the name of a non-alcoholic1 beer brewed by Athletic Brewing Company in Stratford, Connecticut. It's a pleasant beer that, like other good non-alcoholic options like Clausthaler and Buckler, actually has kind of a beer taste to it. Many 'malt beverages' end up just tasting a little off and linger with a sweetness that just doesn't feel like you're drinking a beer. And since the whole point of substituting cocktails, beer and wine with close approximations is to satisfy the emotional drive to consume something similar to those products, that just results in disappointment if you ask me.
Ingredients
Buy a six pack of it.
Instructions
Open the can and drink it.
Okay, fine, pour it in a glass if you're stuck up like that.
What We're Thinking:
Okay, okay, so we've deviated from our comic book theme somewhat. (I mean... technically... there is a comic book series now, but it's based on the show, and not the other way around.) But cut us some slack! We got busy, and nobody ever said we would only talk about comic books in these things! The primary cast of characters are all minors who - even in the 80s - probably shouldn't have been drinking, so we haven't deviated from our goal of representing the underage crowd in our drink posts this month. Tune in again this weekend for a make-up post about some progress towards that book! If you're lucky, you may even get to read some ramblings about the temporal anomaly that was graduate school!
.
.
.
.
.
.
.
.
.
Bonus Mocktail: The Peachy Kean
Ha ha! You thought that was all you were going to get, didn't you? Well, it turns out Jon had already prepped a bonus mocktail for this week (if you read our last post, you'll see that Rachel offered up a delicious secondary option that week, too!), and it's not half bad! This week's is a play on a somewhat lesser-known character in DC comics canon, although if you watch the CW, you may be familiar with a more recent portrayal of her... and so, without further ado, we now present The Peachy Kean: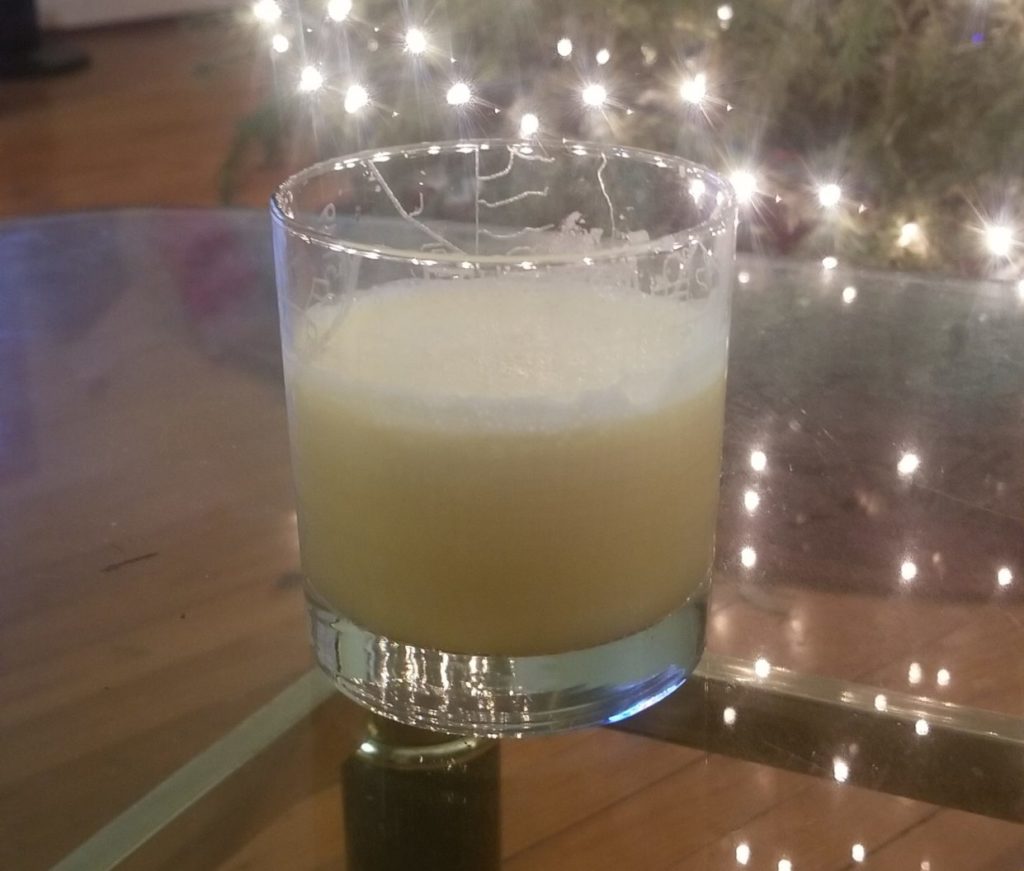 Yes, that is a Christmas Tree in the background, and no we haven't taken it down yet. Don't you dare judge me.
Barbara Gordon (née Kean), was Commissioner Jim Gordon's wife in the comics, and eventually leaves him in certain storylines. In the CW series "Gotham", they write her as going insane and becoming a villain. In that vein, this non-alcoholic drink is intended to be warm and sweet on the front end from the warm peach , cider and whipped cream ingredients, but then have a sour and bitter kick on the back end due to the apple cider vinegar, to reflect her darker side.
Ingredients
Pureed peaches
Apple Cider
Apple Cider Vinegar
Whipped Cream
Instructions
I heated everything but the whipped cream in a pot and stirred it up well, and then stirred in the whipped cream. On the front end, it tastes a lot like a peach variation of an orange creamsicle, but then on the back end as the taste lingers, the sour and then a bit of a bite come out as it moves back.
1While labeled 'non-alcoholic', it is worth noting that the beer is also labeled as having "<0.5% ABV".